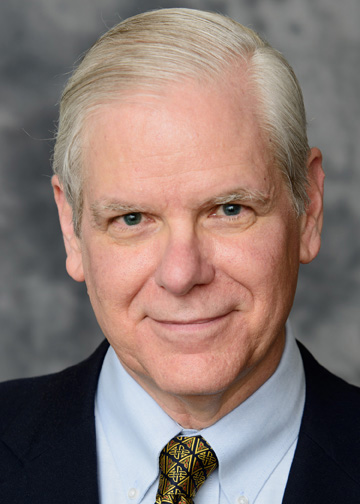 James R. Fienup
Robert E. Hopkins Professor of Optics, Institute of Optics
Distinguished Scientist in the Laboratory for Laser Energetics
Professor, Center for Visual Science
Professor of Electrical and Computer Engineering, University of Rochester
Affiliated Faculty, Goergen Institute for Data Science
University of Rochester
Institute of Optics
Wilmot 410
275 Hutchison Rd.
Rochester, NY 14627-0186
(585) 275-8009
fienup<at>optics.rochester.edu
Research Areas
James R. Fienup is the Robert E. Hopkins Professor of Optics at the Institute of Optics. His research area is imaging science, including phase retrieval, unconventional imaging, image reconstruction, wavefront sensing, imaging with sparse and segmented-aperture systems, and synthetic-aperture and pupil-plane active imaging systems.
Education
PhD, Applied Physics, Stanford University, 1975 (student of Joseph W. Goodman)
MS, Applied Physics, Stanford University, 1972
BA (magna cum laude), Physics & Mathematics, Holy Cross College , 1970

Previous Employment
Senior Scientist (7/75-6/02) at Environmental Research Institute of Michigan (ERIM), which was purchased by Veridian Systems, then by General Dynamics – Advanced Systems Division, and is now Maxar Radiant Solutions (1200 Joe Hall Drive, Ypsilanti, MI 48176)
Research Assistant, Stanford Electronics Laboratories, Stanford University, 1972-1975
Professional Societies, Honors, Awards
Lifetime Achievement Award, Hajim School of Engineering & Applied Sciences (University of Rochester), 2019
Emmett N. Leith Medal, Optical Society of America, 2013
Member, National Academy of Engineering, 2012
Distinguished Visiting Scientist, Jet Propulsion Laboratory, 2009
Fellow, Optical Society of America (OSA) (President, Ann Arbor Section, 1982-1983)
Fellow, International Society for Optical Engineering (SPIE)
Life Senior Member, IEEE
Member, Sigma Xi, Pi Mu Epsilon, and Alpha Sigma Nu
Veridian Medal Paper Awards 1999, 2000, 2001
Best Paper Award for 1990, IRIS Specialty Group on Active Imaging
International Prize in Optics for 1983 by the International Commission for Optics
William Girling Watson Traveling Scholarship in E. E. by U Sydney, Australia, 1983
Rudolf Kingslake Medal and Prize for 1979 by the SPIE
National Science Foundation Graduate Fellow, 1970-1972
Other Professional Activities
Editor in Chief, Journal of the Optical Society of America A, 1998-2003
Division Editor, Applied Optics – Information Processing, 1996-1997
Topical Editor, Applied Optics – Information Processing, 1994-1996
Associate Editor, Optics Letters, 1983-1985
OSA Publications Council: Member, 1991-93, 2004-2006; vice-Chair, 2006; Chair, 2007-8
Member, OSA Foundation Board of Directors, 2018-2020
Member, OSA Audit Committee, 2007-2009; OSA Board of Directors, 2007-2008.
OSA Technical Council Chairman, Ad-hoc Committee to Review J. Optical Society of America A, 1990-1992
Chairman, Image Processing Technical Group of the OSA 1992-1993
Member, NASA's Advanced Telescopes and Observatories Capability Roadmap Team 2004-2005
Member, Product Integrity Team (PIT) for NASA's James Webb Space Telescope, 2004-present
Member, NASA's Hubble Space Telescope Image Processing Working Group, 1990
Member, Advisory Board for the Chester F. Carlson Center for Imaging Science (CIS) at the Rochester Institute of Technology, 2008-2011
Feature Editor for J. Opt. Soc. Am. A for Nov. 1983, January 1987 and March 1990
Chairman, OSA Topical Meetings on Signal Recovery (1/83, 4/86, and 6/89)
Seminar Co-chairman for several SPIE conferences
Consultant for Leidos, Ball Aerospace, U. Minnesota, JPL, Lockheed-Martin, General Dynamics, MITRE, Veridian Systems, Solers, Inc., QED, ITT-SSD
Professor Fienup has five patents and has published over 220 papers

Doctoral Dissertation
"Improved Synthesis and Computational Methods for Computer-Generated Holograms," Stanford University, May 1975 (ProQuest, UMI No. 7525523).
Or free version here: [PDF, 2.3 MB]; Thesis Errata [PDF, 85 kB]
No. 8,279,329, "Structured Illumination for Imaging of Stationary and Non-stationary, Fluorescent and Non-fluorescent, Objects," S.A. Shroff, J.R. Fienup and D.P. Williams, Issued October 2, 2012.
No. 6,597,304, "System and Method for Coherent Array Aberration Sensing," J.R. Fienup, Issued July 22, 2003.
No. 4,607,914, "Optical System Design Techniques Using Holographic Optical Element," J.R. Fienup, Issued August 26, 1986.

No. 4,412,719, "Method and Article Having Predetermined Net Reflectance Characteristics," J.R. Fienup, Issued November 1, 1983.

No. 3,957,353, "Multiemulsion Transparency Providing Separate Phase and Amplitude Control," J.R. Fienup and D.C. Chu, Issued May 18, 1976.
PUBLICATIONS
One of his papers [J.R. Fienup, "Phase Retrieval Algorithms: a Comparison," Appl. Opt. 21, 2758-2769 (1982)] has received over 6,400 citations and is the most highly cited paper (out of over 55,000) in the journal Applied Optics.
Personal
3 kyu Go player; Erdos number: 3 (via Wlodzimierz Holsztynski via Siemion Fajtlowicz); Einstein number: 3 (via Emil Wolf via Max Born); Hirsch index: 56 (Google Scholar) or 42 (Web of Science)